These terms and conditions are between you (Our Customer) and us (Hotpoint Appliances Limited) and we've set them up because;
We understand the essence of cultivating and nurturing our relationship with you.
We're on a mission to make every interaction you have with us as easy and smooth as possible.
It makes it easy for you to understand what to expect from us and vice versa
We recommend you read and accept these Terms and Conditions as they are binding and supersede and replace any prior understandings whether oral or written

---
Website Content

Every product on our website is uploaded by including; image(s) of the product, a description, model number, product features, price and warranty duration.
We also ensure to provide dimensional accuracy on relevant products.
The product may contain slight or unintended variations that may be impacted by the brightness of your screen
---
Order Placement Procedure
To place your order online, you shall;
Select the product(s) you are interested in by adding it/ them to your basket
Click Checkout Securely. If you are a new customer, you shall enter your email address in order to proceed with checkout. If you are a repeat customer, all you need to do is to log in to your account. You can do this by signing in via Google or Facebook.
Proceed to the payment page, select your preferred mode of payment such as i.e.
Payment on Delivery
M-PESA
Credit Card
Bank Transfer
Upon submission of your order, we will send you an Email and SMS to confirm that we have received the order and is processing it.
---
Prices & Payment
The Prices of the products on our website are priced in Kenyan Shilling (Kes). Payment authorization and settlement during checkout is also processed in Kenyan Shilling.
The Prices are subject to change without notice
All prices include VAT and exclude delivery or installation fees where applicable. If you live outside of Nairobi, Mombasa or Eldoret, delivery fees will be charged to your order. The charges will vary due to the product or the value of the whole order.
We may occasionally offer products on sale or at special pricing. Such deals will be limited to specific products and are subject to stock availability. Delivery fees and terms may apply.
You can rest assured that any direct payment for your order online is Safe and Secure! We accept direct payments through M-PESA, Bank Transfer or Credit Card. You can also pay on delivery through M-PESA Till Number (542419) or by swiping your card.
---
Delivery Services
Delivery to Suit You
Making your delivery seamless and to your convenience. Once the delivery truck is en route, our drivers will call you to let you know we're close.
Our delivery team do more than just deliver your product, we can even unpack & *install your new appliance (Refer to Hassle-free Installation)
With free or next day delivery, all you have to do is say when and we'll be there with your new favourite purchase. Simple as that.

Types of delivery
Free Next Day Delivery
Free Click & Collect
Charged Delivery for upcountry orders - outside Nairobi, Mombasa & Eldoret
Free Next Day Delivery
This type of delivery is done within Nairobi, Mombasa and Eldoret. Any other regions outside of these confines are charged.
In Nairobi, some areas outside these confines qualify for free next day delivery but might need some additional charges. These areas are as follows;
Mombasa road to Kitengela
Waiyaki Way up to Limuru road
Ngong'and Langata road up to Rongai/ Ngong' town (Kiserian)

On the morning of your delivery day, we'll text or email with an estimated 4-hour window and a link to track your order. As the driver gets closer, the window gets smaller, but with other deliveries and traffic, your delivery time might be affected.
Click & Collect
If you would like to collect your order at any of our retail outlets, this option is available for you at checkout
We will notify you by call or email that your order is ready for collection and should plan accordingly to have it order collected
You are not limited to any product, however, if installation is required, we will arrange to have this sorted out for you by confirming the convenient date and time for installation.
If you plan on having someone else collect the order for you, all we will need is your consent and their ID, otherwise, your ID will be sufficient to collect your order.
Charged Delivery
We charge a small fee for orders outside of the confines of Nairobi, Mombasa & Eldoret below Kes 50,000. However, if your order is above Kes 50,000 you automatically qualify for free delivery to your major town
It might take 3-5 days to deliver your order
Upcountry deliveries currently do not qualify for installation
These are the New Transport Charges in Mombasa
WEST COAST
Changamwe, Migadini, Airport- Ksh.1,000/-
Mikindani, Miritini, Jomvu- Ksh.1,500/-
Mazeras, Rabai- Ksh.2,500/-
Mariakani, Kaloleni- Ksh.3,000/-
SOUTH COAST
Likoni Area, Close To Ferry- Ksh. 1,000/-
Mtongwe, Ng'ombeni- Ksh.1000/-
Tiwi, Ukunda, Diani, Kwale, Msambweni- Ksh.2,500/-
Shimoni, Lunga Lunga- Ksh.4,500/-
NORTH COAST
Nyali, Bombolulu, Kisauni, Mshomoroni, Bamburi, Kiembeni- F.O.C
Utange, Shanzu, Mtwapa- Ksh.1,000/-
Vipingo, Kilifi- Ksh.2,500/-
Watamu, Malindi- Ksh.4,500/-

AREAS ON THE NAIROBI- MOMBASA HIGHWAY EG. MTITO, SULTAN, VOI, AND VERY INTERIOR AREAS EG TAITA AND WUNDANYI TO BE DONE VIA EXTERNAL TRANSPORTER.
Unpacking your goods in the room of your choice
We use two-man delivery teams to ensure that your goods arrive safely in one piece.
As part of the high-quality service, our installers will deliver your new appliance to the room of your choice, unpack it, allow you time to check for any damage before asking you to sign for the goods, and then take all the packaging away with them.
All items should be inspected upon delivery and damaged goods should be refused. If you notice damage after goods are delivered you must report this to us within 1 day.
What if something isn't quite right?
Over 99% of our orders are handled perfectly – goods are delivered on time and work without fault. However, from time to time things do go wrong. Parcels can get misrouted by the couriers, traffic can prevent deliveries from arriving on time, manufacturer's specifications can be inaccurate and items can develop a fault.

The real test of an online retailer is not just the availability of good value products, but how well they deal with after-sales problems.

At Hotpoint Appliances Ltd we aim to offer a service most other online retailers fail to deliver on Product availability, value, reliable delivery, and a clear and fair after-sales service. For more information go to our Customer Service
Damaged/ Missing/ Wrong items
Most of our orders arrive on time and in the same excellent condition they left our logistics centre. Saying this, products can get knocked about in transit, and whilst maybe only the packaging is damaged, the products themselves may have slight damage.
If the damage is noticed at the point of delivery the order can be declined and returned with the driver.

If your delivery has not arrived by 6 pm on the due delivery date, please contact us by email or telephone
Our customers love our delivery service & you can see why...

Free next-day delivery
Choose a delivery day (4-hour delivery timeslot)
7 days a week
Existing appliance removal – apart from products like Built-in Hoods and TVs with pre-existing brackets
Hassle-free installation*
Tidy up all the rubbish
Friendly trained team
---
Hassle-Free Installation
You don't have to do anything. Our expert trained team deliver & install 100's appliances every day. If you wish, the team will disconnect, remove and organise to dispose of your old appliance as well. And you'll be pleased to know that we will do all of this in one visit
We are happy to install:
TVs
Washers, Dryers & Dishwashers
Cookers
Fridges
Built In-range*

Please note if you would like this service, we will contact you to confirm the delivery and installation date.
Free Installation doesn't apply to Air Conditioning products and Chimney Hoods.
For mounting Non-Hotpoint & Samsung products there is a Kshs. 5,000.00 installation & setup fee.
Pre-installation requirement for:
TVs
●Wall brackets purchased from us (You can purchase wall brackets from us in case you do not have one)
Installation is only done on concrete walls ( not on any other material) - Otherwise, prefabrication is needed before installation.
Washer/dryer
13 amp volt switcher – domestic only
30 amp volt switcher – commercial only
30 amp plug and socket
Flex cable
Washing machine tap
Water pressure between 50-800 Kpa
Power point in the installation location
Washer
13 amp volt switcher – domestic only
30 amp volt switcher – commercial only
30 amp plug and socket
Flex cable
Washing machine tap
Water pressure between 50-800 Kpa
Power point in the installation location
Side by side fridges with plumbing
Water pressure between 138 Kpa-862 Kpa
Water source behind fridge location for plumbing
Checklist upon installation
✔Fully test your new appliance to ensure it is in full working order.
✔Provide you with a form for signature, to verify that all the work has been carried out to the highest standard.
✔Tidy up once the work is complete.

---
Return Policy
Free 7-day Returns
If you want to return a product, just let us know within 7 days of delivery and we'll tell you how to get easily get back to us.
Products: All products in our range include Home Electronics, Home Appliances, Small Domestic Appliances, Medium Domestic Appliances and HVAC.
Brands: Our brands include Von, Bosch, Ariston, Samsung, Delonghi, Kenwood, Nutribullet, Faber and LG. (Direct Imports)
Returns made Easy
If you are not happy with your new product? No worries.
We'll exchange it for your preferred item, however, kindly note we're unable to give a cash refund but will give you a Gift card of the same amount.
Extra bits you should know:
Should you change your mind on any of the products purchased, you can return the product in the original form (New, not opened, with all accessories and intact packaging) to us within 7 working days (this is a calendar week because our retail outlets open 7 days a week) and Hotpoint will exchange the item for them.
You only need your original receipt, delivery note or warranty card (where applicable) to process the exchange.
Should you choose an item that is of greater value than originally paid for, you will be required to top up the balance on the new item purchased.
Should you choose an item of a lesser value than originally paid for, the balance from the new purchase will be loaded onto the gift card or money placed in a cash account in the case of invoices. This value can be redeemed at any of our outlets within six months.
The value to be loaded should be a minimum of Ksh. 1,000/-. Less than this can be refunded in cash.
All returns and exchanges must follow the credit note process.
NEW PRODUCTS – OPENED WITH MISSING ACCESSORIES AND PACKAGING NOT INTACT:
Within 7 days you can return a product bought from Hotpoint. However, should the product miss any of its accessories or have incomplete packaging, the below value reduction guidelines will apply.
Management has the right to decline the exchange.
Please note that if the product had been discounted, the retail price will be applied when calculating the value reduction: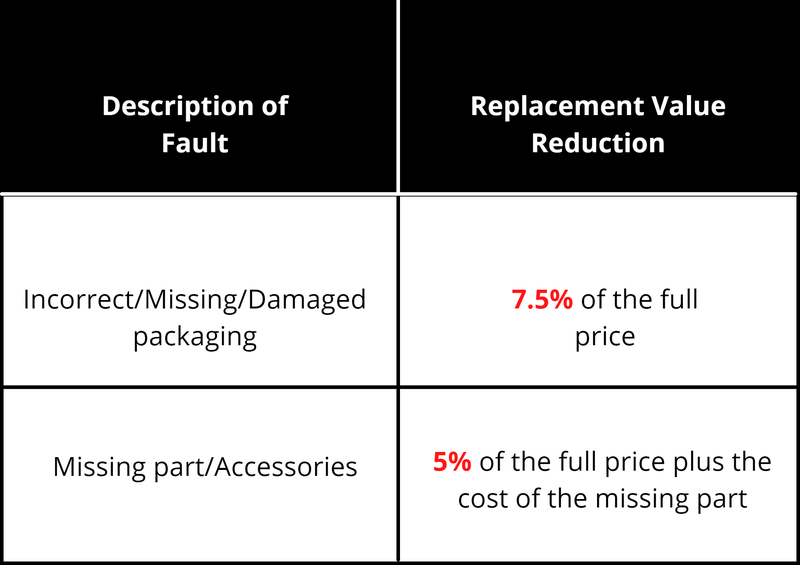 Hotpoint will not accept any item returned back with faults such as dents, scratches, discolouration or tampered with.
Project-Related Product – Built-in Appliances:
Products supplied under the project umbrella may be exchanged or upgraded before commissioning
Commissioning dates will need to be provided beforehand, any change in the commissioning dates will necessitate approvals from Management/Directors
Under this umbrella, Hotpoint will only accept BRAND NEW GOODS IN THEIR ORIGINAL PACKAGING ONLY
All other terms and conditions on this return policy will apply
Important Notes:
We recommend that you return your item to the retail outlet you bought from.
---
Product Financing
We have partnered with 3 product financing providers; Aspira, Flexpay and KCB. No matter what you need, we've got a flexible option to fit your budget. No catch!
The Flexpay option lets you save for any product for a period of 90 days, application is easy online and at any of our 8 retail outlets with 0% interest
Both Aspira and KCB options allow you to start enjoying what you have bought right away and pay over a period of 12 months with simple interest. And we don't charge fees of any kind—not even late fees. So you'll never pay more than you expect.
Find out more about these options below here
---
Promotions

From time to time, we may offer different types of promotions; We may offer codes to all our audience or unique to you. These codes may be applied at checkout.
We may also offer cashback discounts specific to a brand, product or product category. We'll let you know if a product qualifies for this in your search results and on the product page.
We may also offer bundle offers redeemable exclusively online, at retail outlets or both
Offers have a validity period and can only be claimed within the specified time.
---
Warranty
Every product is covered by warranties against manufacturing defects and faults.
We offer 24 months warranty on all LG and Bosch products and 12 months on all other brands.
Some brands may offer additional warranties on certain parts of a product e.g. some fridges may come with up to 10 years warranty on the compressor.
We also offer these warranties to all Authorised Hotpoint Dealers
---
Third-Party Links
Some content, products and services may include materials from third parties – we advise that you familiarize yourself with their terms and conditions as you engage in any transactions and sign-ups.
---
Errors, Inaccuracies & Omissions
Occasionally, there may be information on our website that may contain typographical errors, inaccuracies or omissions that may relate to product descriptions, pricing, promotions, offers, product shipping charges, transit times and availability. Should this occur, we reserve the right to correct the errors, inaccuracies or omissions
---
Governing Law
These Terms and Conditions are subject to the Laws of Kenya
---